Joaquin and talking
Don't assume it's easy. He gets nervous, it seems. He forgets his own birthday on national TV. But beneath the mumble-jumble, give this actor a juicy role, and he communicates on an entirely different level.
By Stephanie Mansfield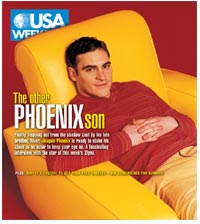 "I was raised unconventionally. I'm comfortable talking about things that men typically wouldn't."
---
There are unmistakable signs that Joaquin Rafael Phoenix, one of the most versatile actors of his generation, is also among the most eccentric.
Fond of using strange names like "Elephant Boy" on the door of his Tribeca loft, he dotes on his two cats, is a dedicated vegan, puts blankets up on his windows when he sleeps and smokes four packs of Camels a day. He's so afraid of flying that he once panicked in midflight and had to be restrained by the crew.
"Yes, it's true. The pilot sort of cold-cocked me in the jaw," he says now. "I guess I was making everyone nervous." He has a deep, raw laugh. Once, he breaks out laughing -- then seconds later admits he's embarrassed because he really didn't get the joke. He claims not to have dined at the bistro where we meet, and yet the manager later says "he comes in a lot with his friends."
His nails are bitten to the quick, and he recently had streaks of gray added to his hair to make him appear older. "Were you worried about me?" he asks, laughing. "You're lucky you didn't see the last color," which was blue.
Appearing two years ago on "Late Show With David Letterman", he couldn't remember his birthday (Oct. 28, 1974). Jay Leno was so frustrated by an incoherent Phoenix that he suggested the actor "be here in person next time."
"He should not do the talk shows," declares his longtime agent, Iris Burton. "He gets nervous." Burton, who also represents heartthrob Josh Hartnett, discovered Phoenix and his four siblings -- River, Rain, Liberty and Summer -- when they were singing for quarters on a Los Angeles sidewalk. Joaquin was then known as Leaf. "They were on the street. The father's in sandals," Burton recalls of seeing them perform for the first time. "I found the kids and brought them to everybody."
Now, 20 years later, after all the child-actor auditions, commercials and guest shots on "Hill Street Blues", Phoenix is seated on the bistro's outdoor patio drinking lemonade and chain smoking. He wears Puma sneakers, black jeans and a gray cotton sweatshirt, topped off with an "Ocean's Eleven" baseball cap.
More striking than handsome -- with that birth scar snaking up his top lip and feral green eyes with impossibly long lashes -- he does exude a sensuality that is slightly menacing and, at the same time, entirely vulnerable. It's what made him so chillingly perfect as Nicole Kidman's dimwitted, murderous teenage lover in "To Die For" and so riveting as the imprisoned American tourist in "Return to Paradise" -- and what earned him both Oscar and Screen Actors Guild nominations for his supporting role in "Gladiator" as the deliciously evil Commodus.
His latest project, M. Night Shyamalan's summer thriller "Signs", is a departure for Phoenix, who is cast as Mel Gibson's younger brother, a former baseball player, whom he embodies with uncharacteristic boyish humor. "It's the first time he's ever played a normal human being without dementia," the director laughs.
The role was a stretch for Phoenix.
"I'm so not a baseball player! Oh, my God, forget it. I've no idea. I've never played an athlete. Not even a failed athlete!"
The truth is, for all his intensity, Phoenix has a sly, almost mischievous wit and a sweet heart.
"He's romantic. And innocent and sweet," Gibson says. "And he's very self-deprecating, making jokes at his own expense." Phoenix often cracked up the "Signs" crew, doing "an athletic dance version" of his lines.
But "Signs" is far from comedic. The buzz promises a taut thriller with Shyamalan's trademark squirm-in-your-seat ending.
Says Phoenix, a fan of Shyamalan's "The Sixth Sense" and "Unbreakable": "I think all of his films ask, What is our purpose as humans? Night is a believer in fate."
Phoenix chooses roles with care. "When I work, I try and stick to my work. Sometimes you miss out on things. It takes a lot out of me to work. It's a big commitment. And I want to know that the process is going to sustain me, because I know that nothing else will. The money or whatever the benefits that come along with being an actor, they don't sustain me over the course of three months." He takes a drag on his cigarette and squints into the afternoon sun. "I've never done a film that's ever been a job to me."
He was born in San Juan, Puerto Rico, to missionaries of the Children of God religious cult. The family -- his parents lived a bohemian lifestyle -- moved often. The five children were raised in a close-knit, yet freewheeling, style. "He never had a home, never owned anything," Burton says. At 7, he changed his name to Leaf, supposedly while raking leaves with his father. He dropped out of school in the ninth grade, having already chosen acting as a career.
Recalls Burton, "River used to say to me, 'Joaquin's better than all of us.' "
But tragedy struck the family Oct. 31, 1993, when 23-year-old River ("Stand by Me", "My Own Private Idaho") collapsed outside the Viper Room nightclub in West Hollywood, Calif., dead of a drug overdose. It was Joaquin's voice replayed on the news, calling 911. When the subject of his brother is raised, Phoenix snaps, "Let's get on another subject."
Nearly 10 years later, it's still an open wound, friends say. For a time afterward, Joaquin Phoenix left the Hollywood scene and lived with his father, John, in Costa Rica. (His parents are now divorced, and his mother, Heart, lives in Florida.)
Although uneasy in certain situations and unfamiliar with social etiquette, Phoenix ("much wiser than his years," says friend Shyamalan) does connect passionately with his siblings and other objects of desire.
"I don't have a lot of secrets," he says. As for being a typical man: "I don't think I am. I think I was raised where I was encouraged to express myself. I think acting came out of that. In that sense, I think I was raised somewhat unconventionally. I think that was encouraged. And I think my girlfriend likes it. I think I'm comfortable talking about things that men typically wouldn't."
And whom is he dating? "I can say, but I'd rather not," he says. "She's not an actress."
Is he in love?
"Yeah," he answers. "It's great."
"Honey, he's always in love," Burton says with a sigh. "He's in love with love. He needs so much love. Sometimes he gets hurt."
His public romance and breakup with actress Liv Tyler -- they dated for three years, splitting in 1998 -- was wrenching. Now, he seems happy to have a place of his own and a somewhat stable life.
"I have been trying to reinvent myself as Bob Vila," he says. "I've been doing some home work. I now have this pulley system. I didn't want everything on the ground, so I decided to hang these, like, candles and plants. I think I may have overdone it. Now it's beginning to look like a torture chamber. It's like "Hellraiser" -- chains swinging."
He also has a new sense of belonging to the Hollywood community.
"The Oscars, to me, was a recognition of my work, and in a way it was saying, 'You're not alone.' I think you have multiple extended families, and I'll always feel close to people I work with. I think that's when I work best," he says. "It's important to feel safe."
In the end, "if you're doing it for outside validation, you're going to be destroyed," Phoenix says. "The same thing that can make you feel great one moment, saying you're wonderful one moment, and the next you're [not]. I think I'm conscious of that. I've always done things for me. That sounds really selfish. I don't know any other way to do it. That's what drives me."
He slurps the last drops of lemonade through the straw. "How much do you like me, though, really? You're crazy about me."
He's just nervous.
Photography by Michael Grecco
Styling by Jo Goodman. Grooming by David Cox for Celestine Agency.