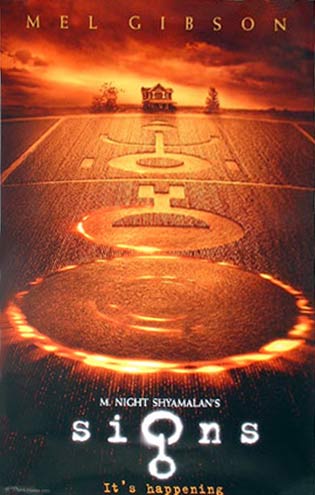 ----------------------------------------------------------------------------
Cast: Mel Gibson, Joaquin Phoenix, Rory Culkin
Mark Ruffalo had been cast as the second lead, but has had to drop out due to an ear operation to remove an inner ear cyst. The role will be recast shortly. (9/3/01) That didn't take long. The Philadelphia Inquirer has broken the news that Oscar nominee Joaquin Phoenix has landed the role as Mel's brother.
Director: M. Night Shyamalan
Distributor: Touchstone Pictures (Disney)
Based upon: The modern phenomenon known as "crop circles", most common in England, where mysterious patterns are found in remote fields; depending upon whom you ask, they're either elaborate hoaxes or messages from UFO's.
Premise: A farmer (Gibson) in Bucks County, Pennsylvania, becomes a media sensation when strange 500-foot crop circles begin appearing in his fields... (Phoenix plays his younger brother)
----------------------------------------------------------------------------
Unofficial Site from the UK for the movie Signs
Official Site
http://bventertainment.go.com/movies/signs/trailer/t_index.html
You can see 2 teaser trailers here & the trailer
Release Date: fall 2002 -
SIGNS PREMIERE IN NYC MONDAY
Wednesday July 24, 2:20 pm Eastern Time
Press Release
SOURCE: Buena Vista Pictures
World Premiere of Touchstone Pictures' Signs
WHO: From the film: Mel Gibson, Joaquin Phoenix, Cherry Jones,
Rory Culkin, Abigail Breslin

Writer/Director: M. Night Shyamalan

Producers: Kathleen Kennedy and Frank Marshall, Sam Mercer

WHAT: To celebrate the premiere of Touchstone Pictures' Signs

WHEN: Monday, July 29th
5:30 p.m. Press Arrivals
6:45 p.m. Celebrity Arrivals
7:30 p.m. Screening Begins

WHERE: Alice Tully Hall
After Party:
Lincoln Center Plaza The Metropolitan Club
Corner of Broadway & 65th St. 5th Avenue & 60th St.
Performance By Rusted Root

CONTACTS: Magazines/Photo Kerry Albano 212/735-5459
Broadcast Sue Warde 212/735-5475
Print/Radio/Online Chris Bogusz 212/735-5468
Magazines Derek Del Rossi 212/735-5416
Your coverage is invited
----------------------------------------------------------------------------
Premiere August 2002, you can read the article HERE
*A picture from Signs from The german site for Joaquin, Looking For JP
You can see it HERE
----------------------------------------------------------------------------
Multimedia:
*Here are all the codes from the Signs Cards from the Offcial Site For Signs
Card #01: 1T4749 | Card #02: 2H1136 | Card #03: 3E7774 | Card #04: 433424
Card #05: XS226I | Card #06: 6K3415 | Card #07: 7Y1411 | Card #08: X2201A
Card #09: 9R3012 | Card #10: X06923 | Card #11: 103244 | Card #12: 2F2671
*Courtesy of joaquin-phoenix.net is this .mov clip (0:25mins. 1,001KB) of Mel Gibson talking about Joaquin, praising JP for his work on Signs, how much he gives to a performance and brotherhood
*Several clips from Signs (you can see them under here) from HERE & Six more Signs clips HERE
I'm Getting Out" -- Morgan Hess (Rory Culkin) tries to convince his skeptical uncle (Joaquin Phoenix) and father (Mel Gibson) that a baby monitor is picking up UFO transmissions.
"In The Corn Fields" -- Graham Hess' (Mel Gibson) flashlight goes out.
"They're Hostile" -- Morgan and Bo (Rory Culkin and Abigail Breslin) try to explain extra-terrestrials to their father (Mel Gibson).
"I Think God Did It" -- A stunned Graham Hess (Mel Gibson) surveys his corn field.
"There's A Monster Outside My Door" -- Bo Hess (Abigail Breslin) asks her father (Mel Gibson) why he talks to her dead mother at night.
"Good Advice" -- Officer Paski (Cherry Jones) tells Graham Hess her theory about the crop circles.
*You can see a clip from Signs HERE, it is with Mel Gibson & Joaquin in a car