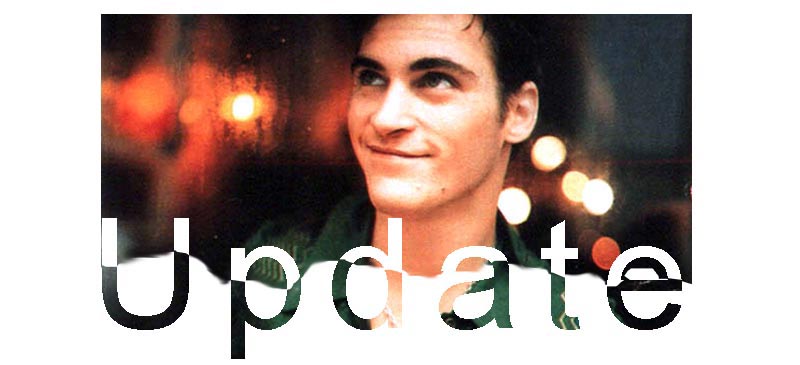 05-07-I have put on a new link to Phoenix Clan & I also changed the lay-out of Summer her site, I still am working on that site though, I gonna probably make it also a site for Rain
06-05-I got some really nice River Art from Jennifer BIG THANKS FOR THAT, you can see it HERE, on Art page 2 at the right
05-05-I have changed the page for Joaquin moviepictures HERE
I changed also River his page HERE, I have put on all the links related to River on it, I did the same with Summer her page HERE
08-04-I have put on a new link to a great Joaquin site called The Sexy Joaquin Phoenix Picture Page at links
23-03-I put up a dedication HERE from Monique and also put a link on to the page Monique made for Joaquin HERE
21-03-I have put up a dream that I got by e-mail, don't know who wrote it though, it is called Slayer
11-03-I have put on a dedication HERE from Sandra
10-02-I have finally found some time to put on a lot of interviews and articles from 2001
Also put on a dream from Andzia
31-12-I have put on a link to Phoenix Rises at links
29-12-I have put some more little stories on Did You Know, look at page 10
27-12-I have put on an article from Seventeen April 1990 from River called We Are The World onto The Rainforestpage
15-12-Have put on the symbols on the pictures page of the Phoenix family, every symbol has a link to a site with a lot of pictures on it. I have a lot of River pictures at home, but not the time to put them up, so I decided to link his symbol. I also did that for his sisters. HERE
07-12-Have uploaded a lot of photos HERE (New Family and Leaf, have to put still more photos in there)
27-11-Put on some more pictures HERE
22-11-I have ad some new petitions and some links to some sites here
18-11-Put two new photo's up, thanks Haruka for sending these
15-11-Put on all the Oscar pictures I had HERE and some other pictures
14-11-I have uploaded a lot of pictures, look under magazines pictures, a lot more to come. I put some more on when I have the time.
05-11-I put an other new link to a site for the Phoenix family
01-11-Put some movie alerts on
29-10-Added a link to a german Joaquin Phoenix website, thanks Tyler
21-10-Added some pictures at the picturespage, more to come later
23-09-Added a guestbook, I made it in geocities, from there if you click on return to Site you come onto the Poetry and Art site, sorry for that. Just click then on the little house on there to get back.
22-09-Added a page for Signs here, just click on Signs
10-09-Made a Picturespage , more pictures still to come
Added 2 dedications from Wendy and from Fats (thank you)
07-09-Updated Dreamspage, a dream added from Pink Kat (Thank for that :))
03-09-Updated the IAALpage, put a photo of the Story-Board on and a Tröllhättan picture on there
01-09-Added the Buffalo Soldiers page, noticed that it wasn't up yet lol. Updated the PETA page
31-08-Added an archive on the Daily News page and a symbol for his birthday already, linked to the Birthday Scrapbook, you still can send something in before 15 september
29-08-Added a dedication here from Marissa and put a link to the Joaquin fan site Joaquin - The Phoenix who fired our hearts on Links
28-08-Added an old article Tjeck June 2000, translated by Marissa, thank you for that and put an Art on the Artpage from Rose (Big Thanks) and a poem for River from Inna (Big Thanks) on the poempage
25-08-Added a Bio River page (Just with the story of his birth on it) and added some news - Put 2 new petitions on
12/08-Added Joaquin Bio short & Bio on the facts page, just click on BIO and on the Joaquin symbol and I have put the Brother Bear page on the film page (go to facts and click on the F from facts - Brother Bear) Put a calendar on the multimedia page
11/08-Added Rio rainforest page at the Animal rights, just click on River his symbol and put 2 pictures on the Petition page
06/08-Added news, Drawing of Marf (Big Thanks) in the Art section
7/25-Added a message forum, new link (J.P. Web) to links, petitions, news, and changed the site link to:
http://lyssa740.tripod.com/jmo.htm
Also added the TLC page, which you can get to through the animal rights page!