ARCHIVE
30-06-I got an e-mail from Martina, she met Joaquin at a bar in NY a while ago, you can read her story HERE, thanks Martina ( you lucky girl :)) for sending this to me :)
*From JF: River Phoenix **CHILD STARS** premieres Sunday, July 7th @ 21.00 (Sky Digital Channel: 563) for more info see: thebiographychannel.co.uk
*Gossip from Eonline:
Joaquin Phoenix,ambling up Hudson Steet in TriBeCa with a guy pal and looking at hot as evah in a white t-shirt and torn jeans. As a foxy-femme cruised past, JP did a NOT so subtle head-turn and checked her out. (Thanks Gal Pal for this)
*You can vote for Joaquin again :), at the swedisch Cosmopolitan HERE, to vote (you just pick Joaquin and push LÄHETÄ. You only can vote ones every month. Thanks Fani for this)
The text that comes up in the violet box when you put the cursor on Joaquin's name says:"Joaquin Phoenix. The shy charismatic son from a family of actors, who was last seen in the movie Quills. There also lives a small healer of the world in Joaquin: he doesn't eat meat or wear leather clothes."
28-06-A picture of the cast of Gladiator, never saw this one before, thanks Marissa for sending this to me :)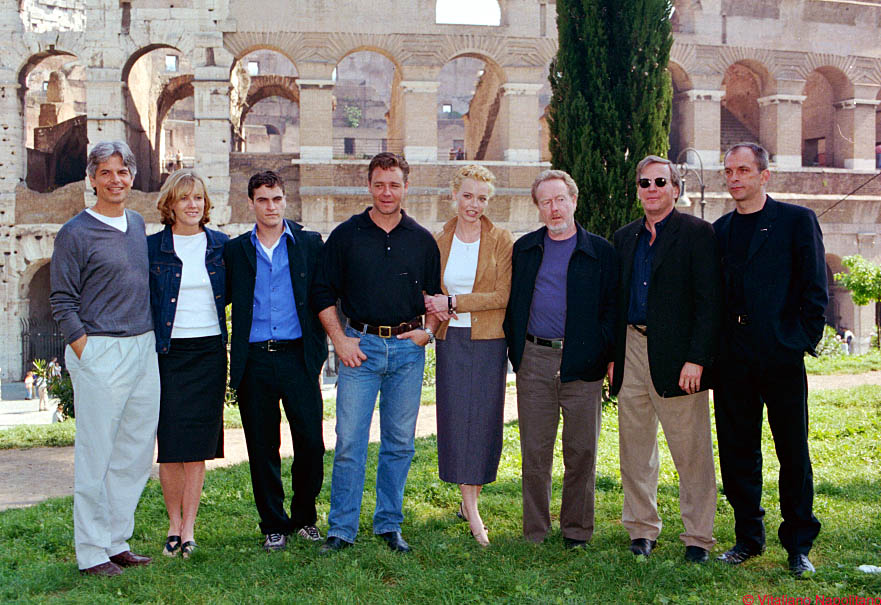 26-06-Thansk to JF for this & Joaqrophenia
According to the Joaqrophenia group Mel Gibson will be discussing his career and new movie Signs on Sunday July 28th 10PM est MTV (US). Also don't miss Monday July 29th 9:45PM est STARZ (US) and Wednesday July 31st 4:15PM est - on the set of Signs!
25-06-Thansk to JF for this & Joaqrophenia
"Real Lives: A week in the life of a paparazzi photographer" mini-article.
Sunday Mirror, 26/05/02
My work day starts at 6pm outside the Garrick Theatre for the premiere of This Is Our Youth. I take pictures of actress Emilia Fox and Kenneth Lonergan, who wrote the play, but cast members, Matt Damon, Casey Affleck and Summer Phoenix are already inside. I catch them at the after-show party in Teatro. There are about 10 other photographers there so I have to use a bit of elbow to get some good pictures. Casey Affleck, Ben's little bro, is the first to leave. I take a few shots as he walks out, then walk alongside him to carry on photographing him. Next the Phoenix clan emerge - Joaquin with a girl on his arm and sister Summer, but they're all incredibly hostile to us. Matt Damon is the last to leave, and waits for us to take photos. Just like John Cusack and Catherine Zeta-Jones in America's Sweethearts, he's an expert at turning on the charm for the cameras. After a few seconds of posing he says: "Any of you who haven't got that by now should take up painting." After a dose of Phoenix treatment we appreciate the humour.
23-06-You can see the trailer HERE on E!
*Thans Marissa for this news,
From the Danish Newspaper "Politiken" June 17th 2002
Polish Music in Danish movie.
It will be the Polish composer Zbigniew Preisner, who will compose the music to Thomas Vinterberg's latest movie " It is all about love." Preisner has composed music to a Danish movie before, more exact in 1997 where he was the composer to Søren Krag Jacobsen's movie " Island on Bird street" which gave him a Silverbear at the filmfestival in Berlin.
Preisner has also made the music to Krzystof Kieslowski's 'Dekalog' and the "Red", "White" and "Blue" trilogy.
22-06-New Signs Trailer on E!, news from the Yahoo Signs board
This weekend there is a new trailer
for "Signs" on E!'s "Coming Attractions". It comes on immediately
after the "K-19:Widowmaker" trailer shows. "Signs" is the fourth
trailer in the show.
*Thanks to Marissa for sending me this link, here are some pictures from the iceskating arena in a Danish city called Rødovre where they were shooting some scenes for " It's all about love " The pictures shows them making the arena ready HERE
21-06-Laura made this site for Joaquin his latest asset :lol His moustache :lol, you can see it HERE She also added a memorial page for River and for her brother Liam (Very touching, worth reading :))
20-06-2 bigger pictures (1 from Instyle.com) of Joaquin on the After Party from Minority Report
Joaquin Phoenix arrives solo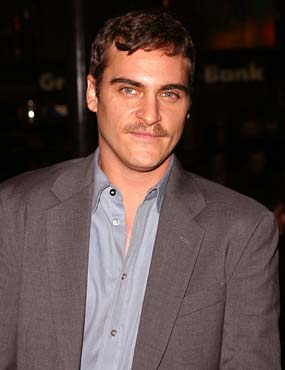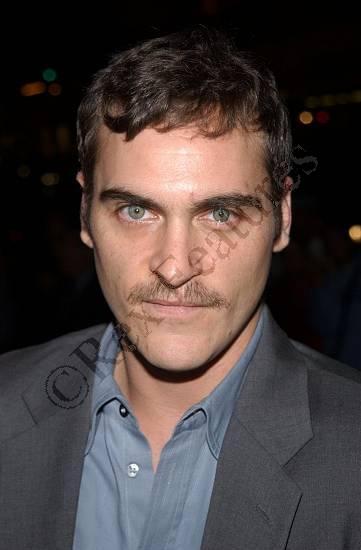 *A picture from IAAL HERE, from the german site for Joaquin, Looking for JP
*Disney company Touchstone Pictures is planning to create crop circles around the world as part of its marketing campaign for its sci-fi movie Signs, starring Mel Gibson. A source at Disney's Buena Vista told Teletext: "We will carve out crop circles at unnamed sites." Most circles appear in July and August - but this year, some will have been created by Signs' film-makers. How Touchstone proposes to alert the world to its landscaped crop circles is not known, but it's thought images of the crop patterns will be posted on the net and used on posters.
18-06-New Signs Still from Cinema Confidential, not from Joaquin though HERE
A new picture of Signs, you can see it HERE
*Joaquin was on the after party from the premiere of Minority Report, pictures from Wireimage


*You can bid for a photo from Buffalo Soldiers HERE signed by Anna Paquin & Joaquin Phoenix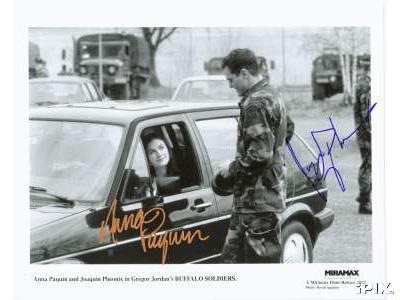 16-06- Big news thanks to Marissa, very big thanks for that :)
The Danish Film Institute's latest news is that "It is all about love" will have premiere at the New York Film Festival on September the 27th.
*New picture of Signs, you can see it HERE
*& I forgot, it was John his birthday june 14, so happy Birthday
13-06-I finally got to go to the magazine store to get the magazine Empire
Signs
The pitch: "I see crop circles...." A Pennsylvanian farmer finds mysterious graffiti in his wheat fields.
The spin: Completing a trilogy of twistastic, otherworldly thrillers, M. Night Shyamalan turns his expert attentions to the phenomenon of spooky messages made out of crushed wheat. the highly original idea centres on a farmer-pastor (Mel Gibson) who, in the midst of a crisis of faith, finds a 400-foot crop circle in his cornfield. Is it a message from God, an alien civilasation or just a bunch of hoaksters up to no good? "I enjoy asking the kind of personal questions that people don't necessarily know the answers to, like, 'Is there life after death?' or, 'Are aliens real?'" the elusive Shyamalan says of his latest trip down wierdo avenue. "Although I think they're hoaxes, crop circles are intriguing and seemed like a nice starting point for a creepy story." With the trailers suggesting more than a hint of Close Encounters, Shyamalan is even further stepping into "new Spielberg" territory. For Gibson, the opportunity to work with the new wunderkind was too tempting to turn down: " he has real vision. I'm still figuring out the movie business. When I was his age, I was being toilet trained."
The bottom line: After The Sixth Sense and the more sombre unbreakable, Shyamalan has announced himself as one of the most daring yet commercial filmmakers in Hollywood. Now with a pair of brilliant elusive trailers and the promise of as much humour as terror, the stars are aligned for something special.
ETA: September 13
Empire estimated Box Office $275m
HERE you can see the pictures
12-06-I have put on a new Joaquin Dream HERE, thanks Jenae for your dream
Also look at the page Summer news, Marjorie met Summer in London
09-06-JMO & JF's Joaquin's birthday book 2002!
JoaquinsFan and Joaquin's Mount Olympus have joined together to create "Joaquin's Birthday Scrap Book, 2002" The web-site is up and running but not much is on there. Just an index page and a rules page, which can be found here (click the image to enter for rules). You've got 5 months to think up some spectacular things to write for and about JP. We're accepting submissions starting from 09th June 2002 (today, so get thinking peeps). Please don't forget to visit the rules section, and abide by them! Please send submissions to joaqbirthday@hotmail.com or joaqbirthday@joaquinsfan.com
There is no guarantee that you message shall be included on our web-site. All submissions shall be read and reviewed. For any further details please contact: joaqbirthday@hotmail.com
07-06-Joaquin may be in a new movie called The Great Raid
*Some older pictures from Joaquin HERE
*Rain is making a new movie called "The Sleepy Time Gal", also starring Martha Plimpton Thank you Marjorie for this & also for this An article saying something about Rain from HERE
4. Do you hang out with all the famous Gainesville people, like Tom Petty and the whole Phoenix clan?
(Laughs.) Tom Petty, yeah. I know Rain (actor Rain Phoenix), but on a casual basis. She plays in (Gainesville band) the Causey Way. I don't see her in town much. She and her significant other, Michael, are very cool. They came to a show of ours once a long time ago and told us how much they liked it. We had no idea who she was. When they walked away everyone was all, "Dude, do you know who that was? That was Rain Phoenix, man!" She's really nice.
*I have put on a link to a new Joaquin site made by Lorraine called Just Joaquin
03-06-I had some trouble with my site, from there that some links on here weren't working & that I didn't update sooner. I hope that everything is working ok again, I moved my Summer pages to another adress with more space, so I will be making a bigger site for Summer in the future.