ARCHIVE
19-07-TV Alert thanks Teacherdara for this
Joaquin will be on Regis & Kelly on Thursday, August 1st (ABC affiliates)
*A picture from Signs from The german site for Joaquin, Looking For JP
You can see it HERE
*from countingdown.com newsletter/ www.mrjoaquin.com
An opportunity to see a preview of SIGNS if you are in Los Angeles, CA. It says: Those in the LA area can win one of 25 double passes to an advance screening of Signs! Simply be the first to e-mail in to contest@countingdown.com with the correct answer to this question: Which one of the Culkin brothers appears in Signs? One lucky recipient will also receive a "Signs" Grand Prize pack. You must include your name, street address, age, and gender in your e-mail and we can send you the tickets. Travel not included.
18-07-Good news for the people living in the UK
The 56th annual Edinburgh film festival from HERE
The festival kicks off on August 14 2002 & closes on August 25 2002
Elsewhere the festival offers a rich variety of films, many of which have already drawn praise at other international festivals. Screening in the Gala section is Francois Ozon's 8 Wome, the black comedy Buffalo Soldiers, with Ed Harris and Joaquin Phoenix, the Bollywood-influenced comedy The Guru, and Philip Noyce's controversial Aborigine drama Rabbit Proof Fence.
Premiere August 2002, you can read the article HERE
*Several clips from Signs (you can see them under here) from HERE & Six more Signs clips HERE
I'm Getting Out" -- Morgan Hess (Rory Culkin) tries to convince his skeptical uncle (Joaquin Phoenix) and father (Mel Gibson) that a baby monitor is picking up UFO transmissions.
"In The Corn Fields" -- Graham Hess' (Mel Gibson) flashlight goes out.
"They're Hostile" -- Morgan and Bo (Rory Culkin and Abigail Breslin) try to explain extra-terrestrials to their father (Mel Gibson).
"I Think God Did It" -- A stunned Graham Hess (Mel Gibson) surveys his corn field.
"There's A Monster Outside My Door" -- Bo Hess (Abigail Breslin) asks her father (Mel Gibson) why he talks to her dead mother at night.
"Good Advice" -- Officer Paski (Cherry Jones) tells Graham Hess her theory about the crop circles.
*News from JF
TV Alert:
Mel Gibson Movie Special?
According to MTV.COM there will be a 'Mel Gibson Movie Special'
Thanks to Laura for this: Apparently it has something to do with STARE - STARZ a 20 minute "On the Set - SIGNS" with Mel Gibson and Joaquin Phoenix. Airing Monday July 29th 09:45P & Wednesday July 31st 04:15P
15-07-From Joaqrophenia new Signs picture HERE
www.ew.com

#7 Hottest Hollywood hunk
*Joaquin has a signed a Sixers Jersey (starting bid $250) that goes on
auction Aug. 5th! For those interested go
here:http://www.nba.com/sixers/

Also the Philinews says 'Signs will have a Philadelphia Premiere.
14-07-Sorry that I didn't update this site sooner, I just became a godmother tro my sister her child :) she is so sweet & cute :) so I didn't have much time lately
* Joaquin is on the cover of Premiere Magazine, I wil put the pictures on as soon if I have the time to go to the magazine store :)
*Thanks to Marissa for this, IAAL Information
The Danish ice skating princess Mikkeline Kierkgaard did the skating scenes for Claire Danes .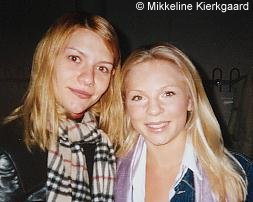 April 22
Mikkeline has just finished touring with the German Stars on Ice tour. She is currently working in Thomas Vinterberg's next movie, "It's all about love". The story is about a world famous ice skater (played by Claire Danes) who is on the cusp of signing divorce papers, only to realize she must fight to save her marriage. Mikkeline will do the skating scenes instead of Claire Danes. "It's very exciting but also a job that takes time and hard work", Mikkeline said.
May 25
Happy 17th Birthday, Mikkeline!
Here are the latest news from Mikkeline: "Now I've finally finished a very hard week of film-shooting. It's been a lot of fun and very exciting, but right now I'm just sooo tired. We've worked this last week 12-13 hours a day, but it has been mostly waiting and standing by. It was great to meet the movie stars: Claire Danes and Joaquin Phoenix were both very kind and nice people.
You can read more on her web-site.
*You can see this picture now also in big, just click on it

11-07-Steve put on some screencaptures from River his Bio
You can see them here on JF here are the direct links to the pictures 1 2 3 4 5 6
From Joaqrophenia
**Found on View Askew BB**

WATCH THIS FACE - Jason Lee : The star of "Almost Famous" and the
upcoming "Vanilla Sky" talks about his life in film.

Reporter: Who would you most like to work with?

Jason: There are so many- Edward Norton, Benicio Del Toro, Joaquin
Phoenix- of course, Robert De Niro, to see what that trip is all
about! Tom Cruise is amazing, a real treat to work with. I also admire
Gene hackman a lot.
* There is also a poster that asked Kevin why he never uses Joaquin
Phoenix in his movies and he responds,"I would love too, but I don't
think dick and fart jokes are his forte."
09-07-Don't forget 10the july MTV MOVIE HOUSE (MTV US) with Signs in it & an interview with Mel Gibson in the programme
06-07-You can see a clip out of Signs HERE, it is with Mel Gibson & Joaquin in a car
04-07-Thanks to Gal Pal for this news, Joaquin will be on David Letterman on July 31
Another new Signs picture HERE
03-07-New Signs picture HERE
02-07-From Joaqrophenia
In 1998, Casey Affleck wrote and directed 13 spots for the SUNDANCE
Channel which will air next year. They are very funny and Casey got a lot of
his friends to participate, including, Matt Damon,
Joaquin Phoenix, Vince Vaughn, Gus Van Sant, Don Cheadle, Christina
Ricci, Edward Furlong and Harvey Weinstein.