ARCHIVE
30-07-I have put on 2 more pages with pictures from The Signs Premiere HERE, he was there with his girlfriend Topaz, there are a few pictures of them
Some pictures from Signs Premiere NYC, Joaquin looks very happy :) You can see them HERE
*An article from E! july 30 2002 Q&A with Joaquin Phoenix The Signs star on kiddie actors, career plans and other scary stuff
*For the people who don't have E!, like me, I think that we better keep an eye on THIS PAGE from E! They might be showing the Signs Premiere online
*Mel Gibson is gonna be on Oprah this friday too talk about Signs
-----------------------------------------------------------------------
29-07-
*HERE is a page with a lot of Signs pictures, & I mean A LOT :lol (Thanks to Signs Yahoo group)
*A new article the Chronicle with 3 Signs pictures Quietly making a name Joaquin Phoenix finds wide range of success
-----------------------------------------------------------------------
28-07-I have updated my Signspage, you can see it HERE
Also don't forget to look at the TV Alerts, I made it a bit better
-----------------------------------------------------------------------
27-07-I have put on the article from USA Weekend HERE it is really a great article :)
*Here are all the codes from the Signs Cards from the Official Site For Signs
Card #01: 1T4749 | Card #02: 2H1136 | Card #03: 3E7774 | Card #04: 433424
Card #05: XS226I | Card #06: 6K3415 | Card #07: 7Y1411 | Card #08: X2201A
Card #09: 9R3012 | Card #10: X06923 | Card #11: 103244 | Card #12: 2F2671
*Joaquin Phoenix is the cover boy in this week's copy
of USA Weekend among the inserts with the comics, thanks to Susan from the Signs Yahoo board for this
*I have put on 2 new Signs pictures HERE
*E! News Daily will be broadcasting monday "Live from the red Carpet" on monday (07.29)
-----------------------------------------------------------------------
26-07-The River biography will be aired again on the
Biography Channel at 8pm (BST) on Sunday (28th)
*BEARS Thanks to Dr.StrangePaula

The Orlando Sentinel indicated in June 2002 that hiking boots, relics
of one of the studio's famed "research trips," are sitting in a
display case across the four floors of Feature Animation Florida.
Comparative shots of the aurora borealis as seen in Alaska, Michigan
and Finland are pasted on one wall, photographic studies of the
wildlife they might want to include in the film are on another.
Samples of work of artists they might want to suggest in the film's
style--Frederic Remington, Al Hirschfeld, famous pieces of
illustrated advertising from the '30s--are pasted up, in between
cutouts of the late comic strip Calvin & Hobbes. "We even had bear
cubs brought in here a few weeks ago," says Boyd. "That was fun."
From the early drawings and paintings, it's plain that Bears will
look nothing like Lilo. That's just the way Schumacher likes it. "We
like to continue changing, challenging our artists, showing new
looks," Schumacher says. "The style changes with the demands of the
story," says veteran animator Andreas Deja, principal animator of The
Lion King's Scar, Aladdin's Jafar and for the new film, the little
girl Lilo.
*Article (about Signs): Residents abuzz over film shot in Newtown
A black-tie premiere will mark the thriller's release.
By Amie Parnes
Inquirer Suburban Staff
You can read it HERE
*SIGHTING: SPACEHOG, the glam-rock band that scored a hit single with "In the
Meantime"in the mid-'90s, is on "permanent hiatus," reports The Post's Mary Huhn. Brit brothers Royston and Antony Langdon, who formed the band in New York, were better known for dating models than making music. Antony dated and dumped Kate Moss and Royston is engaged to actress Liv Tyler. Royston, with his new band, performed to a full house at Arlene Grocery Wednesday night, as Tyler, Michael Stipe and Joaquin Phoenix cheered him on.
*Very big thanks to Marissa for this interview & for the translation as wel :) :) :) :)
The Danish Newspaper "BT" Thursday the 25th of July.

My friend Vinterberg

by Susanne Johansson in New York

"Hvordan går det" Joaquin Phoenix asks in what you in a diplomatic way
would call charming but in broken Danish, and at the same time he looks
proud but also a bit embarrassed. " I just can't speak
that language" he says. " No matter how much I tried and wanted to learn
it, it was practically impossible for me to learn"
Joaquin Phoenix had the opportunity to learn it for several months last
year. He was spending the months in Copenhagen during the shootings of
Thomas Vinterberg's upcoming movie " It is all about love" where he has
the main role. But where the Danish language gave him
difficulties, Copenhagen sure did not. " I had a wonderful time there"
the 27-year old American movie star says. He enjoyed himself during his
stay in Copenhagen and he spent a lot of time on his bike. He has just
as good memories when it comes to the director Thomas Vinterberg, who
has become one of his friends.

Very refined.

"At first I was very surprised. I had seen "The Celebration" and I knew
about the whole Dogme-Manifesto, so when I received the manuscript I
expected it to be similar to that. Instead it turned out to be as
Anti-Dogme as you could imagine. Very refined and plenty of greenscreen.
(scenes that are shot in front of a green screen and thereafter the background are added in digital)
And Thomas has to be the happiest director I have ever met. Which in fact in reality is more Danish than it is Thomas. But he has an incredible warmth and a face that……those eyes, beautiful eyes, makes you feel very comfortable and safe in his company. That is how it has been with him since our first meeting. I was in Germany shooting "Buffalo Soldier" when he came down to meet me. I remember I looked at the parking lot and saw this figure. I knew right away that it had to be him and I could not help smiling. Just by looking at him I just had this really great feeling. A feeling which later proved correct. He became a really good friend so it has been an incredible experience working with him " Joaquin Phoenix says.
"It is all about love" will probably have premiere in the beginning of 2003. But already next month we can enjoy Joaquin Phoenix in M. Night Shyamalans new thriller "Signs."
-----------------------------------------------------------------------
24-07-SIGNS PREMIERE IN NYC MONDAY
Wednesday July 24, 2:20 pm Eastern Time
Press Release
SOURCE: Buena Vista Pictures
World Premiere of Touchstone Pictures' Signs
WHO: From the film: Mel Gibson, Joaquin Phoenix, Cherry Jones,
Rory Culkin, Abigail Breslin

Writer/Director: M. Night Shyamalan

Producers: Kathleen Kennedy and Frank Marshall, Sam Mercer

WHAT: To celebrate the premiere of Touchstone Pictures' Signs

WHEN: Monday, July 29th
5:30 p.m. Press Arrivals
6:45 p.m. Celebrity Arrivals
7:30 p.m. Screening Begins

WHERE: Alice Tully Hall
After Party:
Lincoln Center Plaza The Metropolitan Club
Corner of Broadway & 65th St. 5th Avenue & 60th St.
Performance By Rusted Root

CONTACTS: Magazines/Photo Kerry Albano 212/735-5459
Broadcast Sue Warde 212/735-5475
Print/Radio/Online Chris Bogusz 212/735-5468
Magazines Derek Del Rossi 212/735-5416
Your coverage is invited

Touchstone Pictures' Signs opens nationwide Friday, August 2nd, 2002

SOURCE: Buena Vista Pictures
*TV Alert From Joaqrophenia
Saturday, August 4, 12:30 p.m. on ABD Ebert and Roeper; SIGNS

Saturday August 3, 7:00 p.m. On the History channel HISTORY VS.
HOLLYWOOD; SIGNS
*Joaquin is featured in Biography Magazine's In The Spotlight section.
-----------------------------------------------------------------------
23-07-Mel Gibson fails to outwit Signs co-star

Mel Gibson was left disappointed after he attempted to play a
practical joke on his Signs co-star.
Gibson, who is known for playing pranks on his co-stars, appear with
Joaquin Phoenix in Signs, the latest film from M Night Shyamalan.
The pair were filming a scene in which Phoenix's character is
watching news of an alien attack in a small room under the stairs of
their farmhouse.
"On take 14, Mel comes crunching down the stairs and he's supposed to
knock on the door of the little room I'm in, enter and then we do our
scene," Phoenix tells www.suntimes.com.
"Well there was a knock, all I see is the lights go out in my little
room and then I notice that I'm locked in this room that's no bigger
than a closet.
"I just sat there patiently for 15 minutes and then when Mel finally
opened the door, I leaned out and did my line," Phoenix says. "Mel
was so disappointed because I gave him absolutely no reaction to his
prank."
*New picture from Signs also HERE
-----------------------------------------------------------------------
22-07-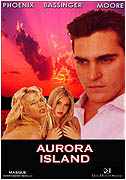 AURORA ISLAND
Distributors:
Domestic - Premier Marketing & Distribution Group, US$16 million Prints & Advertising (2,000+ screens)
International - InterMedia

Producers: Steven Perry, Bonnie Brockheimer & Steven Saxton
Pending Cast: Kim Bassinger, Joaquin Phoenix, and Danny Glover
Director: Martha Coolidge
Screenplay: Robert C. Newton
Status: In Development
Tentative Release Date: January 2003

Planting its story against the backdrop of the burgeoning Space Program (Bunny is obsessed with nabbing the sole single astronaut as her husband, while Bud dreams of heading to Florida himself and cracking the industry - how hard could it be?), this script has the bittersweet air of a time long past that was both more innocent and more difficult in that the mysteries of life were somehow more momentous to naive souls such as Susie. What works best in this script is the way the three central female characters strut and joust for the attentions of Bud, using their assets - Ellen has experience, Susie has youthful beauty, and Bunny, the victor, has cunning ­ while not letting their own friendship, in the final hour, be ruined. AURORA ISLAND creates a quartet of sharp protagonists and proves that this is more than any script that needs to keep an engaging story moving seamlessly. Having a lithe form, the script throws in just enough curves and back-story to illuminate the motivations of the characters without cluttering the simple story. From DH1.COM thanks Steve

*I updated the Alert page, I have put on the TV dates, you can see it HERE

*A site for a Joaquin Paper-doll

-----------------------------------------------------------------------

21-07-The Deauville Festival

The event, same as Cannes, benefits from the myriad of stars
attending and 2002 will be particularly glamourous. The Festival will
be held from August 30th till September 8th, and we should see the
following stars Jennifer Lopez (for "Enough"?), Ben Affleck, Matt
Damon, Jude Law (for "Road to perdition"), Harrison Ford (for "K-19
The widowmaker"), Asia Argento (for "xXx"), Nicolas Cage, Tom Hanks
(for "Road to perdition") and Joaquin Phoenix (for "Signs").

The directors will also be present,among them: Christopher
Nolan (for "Insomnia"), Kathryn Bigelow (for " K-19 The to
widowmaker "), Neil Labute (for "Possession"), Sam Mendes (for "Road
to perdition"), M. Night Shyamalan (for "Sign") and Rob Cohen
(for "xXx").

Thanks to KIKI From Joaqrophenia for this news

*CHUD.COM are giving away tickets for several July 29th preview screenings across America. AThey are giving away a few (MAYBE 25 per city) passes for the upcoming screening of Signs in Atlanta, Birmingham, Charlotte, and Nashville for the 29th of July

*VERY WEIRD, someone is already selling the DVD SIGNS on EBAY, you can see it HERE

-----------------------------------------------------------------------

20-07-More info over Buffalo Soldiers at The 56th annual Edinburgh film festival HERE

FRI 23 AUG 21:30 UGC 7-PRICE: £7.00 (£4.50 CONCS)

SAT 24 AUG 18:30 GLASGOW FILM THEATRE 1-PRICE: £7.00 (£4.50 CONCS)