ARCHIVE
05-08-Big thanks to KIKI for this
A fan of Mel Gibson filmed at the Premiere of Signs you can see all the clips on HERE, I looked at all of them Joaquin is only in the clip Mel & Joaquin Click on HERE for a direct link to Mel & Joaquin, I e-mailed that person to ask if she has more clips from Joaquin also, I will let you know when she replies
*Also take a look at the TV ALERTS I have updated it
*Gibson And Phoenix Battle Over On-Set Pranks

Mel Gibson and Joaquin Phoenix launched a battle of wits on the set
of new sci-fi thriller Signs - because the Gladiator star refused to fall
for the Aussie's famous on-set pranks. Julia Roberts, Danny Glover and Jodie
Foster have all been victims of Gibson's elaborate pranks, and Phoenix was
determined to win every time. He says, "Mel is the perfect combination of a
gentleman and a criminal. He's incredibly kind and generous as an actor but
occasionally, when you go to your trailer door in the morning, there will be
a large supply of Vaseline in your door handle." Phoenix admits one of Mel's
pranks really freaked him out, but he refused to let his co-star see that he
had got to him. He reveals, "We were doing this scene where I'm underneath
the stairs and he comes down and he opens the door and says something to me.
We go to shoot and I hear him come down the stairs and then there's silence
and I'm waiting for him to come open the door, and then the entire set goes
pitch black and I realize he's playing a practical joke and I refuse to lose.
I didn't come out. I just sat there talking to myself. It was about 25 minutes before Mel came back and he just opened the door and said his line as if nothing had happened." Gibson admits Phoenix, who plays his brother in Signs, was "prime for pranks" and he thoroughly enjoyed listening to his co-star talking to himself under the stairs. He says, "Don't listen to him. He wasn't that calm. I got him. He was shouting out things like, 'I'll call my lawyer.'"
*From NY Post this little bit (well we all know his Tucan Boxershort :lol)
Shyamalan isn't the only celeb with a superstitious side. A
surprising number of stars turn to the supernatural to help court success.
Phoenix, 27, trusts his instincts - and his underwear.
"When we fly, Joaquin has his favorite boxer shorts [too]," said
Shyamalan. "He's very choosy about certain things. If he feels wrong about
something, he won't go."
*HIGH SIGNS: The aliens-are-out-there horror mystery Signs, starring
Mel Gibson, directed by M.Night Shyamalan, reaped a golden $60.3
million in its box-office debut, cutting Austin Powers in Goldmember
back to second with $32.4 million after just one week on top. Thanks to KIKI for this
-----------------------------------------------------------------------
04-08-Joaquin apparently played the trumpet & did the vocals in a band called Rhinosaur together with River on the drums & guitar & Sasa on the Bass, from HERE, also from Liberty Fansite
*New article from handbag.com, thanks to KIKI for this, Interview with Joaquin
-----------------------------------------------------------------------
03-08-New Article from USA Today All Signs Point To PHOENIX
*Maybe new movie for Joaquin called Evening from HERE
The project Fonda is looking at is Evening, a script based on the novel of the same name by Susan Minot, who also wrote the book. Quality indie company Hart-Sharp Entertainment, which was also responsible for Boys Don't Cry and You Can Count on Me, is trying to put the deal together, I am told, with help from CAA. Other actors who may join the cast include Samantha Morton and Joaquin Phoenix
-----------------------------------------------------------------------
02-08-Thanks to Steve from JF, he has got some screencaptures on his page, you can see them here [1] [2] [3] [4] [5] [6] [7] [8]
SIGNS PREMIERE today not for everyone though in the world
*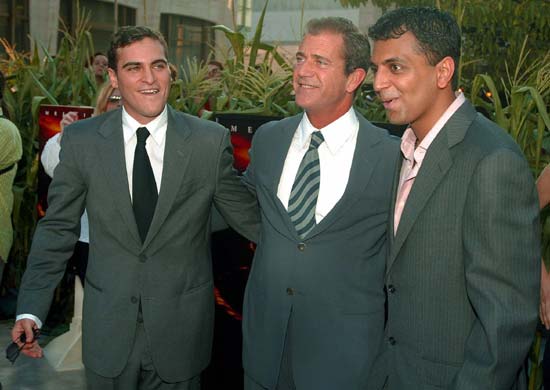 *Brad wrote also something about GOOD Morning America & Regis & Kelly, you can read it HERE, it is like you can really see it when you are reading this :), Thank you so much Brad
*Joaquin is in US Weekly this week
*Article At the Movies: `Signs'
-----------------------------------------------------------------------
01-08-IAAL NEWS, Very big thanks to Marissa who e-mailed Nimbus to get a premiere dat for IAAL, she got this reply back
Unfortunately I cannot confirm a premiere date yet. The worldpremiere will probably be in Copenhagen unless the movie will be on a film festival, which I don't think it will. We are not counting on film festivals with this movie, but just in getting the movie done. About test-showings, then there won't be any test-showings on this movie, sorry. So you have to wait for the movie to have premiere in the cinemas. I am certain though, that there will be a few shows before the actual premiere. I will inform you about a precise premiere date as soon as we know, and where in the world it might be!
Thanks for your interest !

Best Regards
Line Greisen
Nimbus Film PR
*Article Phoenix sees the Signs from Calgary Sun
& I also put an older article from 97 from Toronto Sun up called Phoenix Rising, that title is very original :lol
*From FOXNEWS.COM Want to know if Joaquin Phoenix believes in the kind of creepy alien activity in his new movie Signs? Don't ask him. He's not really the Q&A type. At a recent press junket for the film he was freaked out by all the questions. That's why it's called an interview Joaquin. He cut his time short for journalists. Maybe if he hadn't worn the aluminum foil on his head our alien questions could have gotten through.
*From Showbiz People Briefs
In the VIP room, co-stars Joaquin Phoenix and Rory Culkin horsed around and moppet Abigail Breslin twirled to show off her princess dress to admirers
*For Joaquin on Good Morning America, you better keep an eye on ABC.COM, it might be online
*Joaquin on David Letterman, you can read about it HERE, thanks to the lovely BRAD who wrote this about the David Letterman show
Brad about Goodmorning America & Regis & Kelly:
Joaq on Good Morning America
(Katie sat on his lap!) and Live on Regis and Kelly (Kelly beat him
in thumb wrestling! but she cheated
HERE also some info over Joaquin On David Letterman
*Take a loot at the TV ALERTS today, Joaquin will be on tv a lot today :)
-----------------------------------------------------------------------
31-07-You can bid on a T-shirt worn by Joaquin in Signs on EBAY
*Thanks to Poly & TeacherDara for this Article THE PHOENIX ENIGMA
*Thanks to Synona Skies for these new pictures from the premiere :) You can see them HERE & also some more new ones that I have found on the net
*From Fox News here the whole article
Besides Latifah, my other favorite person at last night's premiere
was definitely Phoenix. He had his steady girlfriend with him (a
South African beauty who gives Charlize Theron a run for her money)
and his mom, Hart Phoenix, the mother of this successful, oddly-named
acting clan (the late River, the recently successful Summer, and so
forth).

Joaquin, who is very funny and charming in person, told me he's
having trouble living down his famous line from Gladiator — "I am
vexed."

"I recently had to do a reading with some other actors, and they had
a line there — I find it very vexing. Some actors would have said, No
no no. Not that again. But I thought it was funny and I just did it."

Phoenix, by the way, almost steals Signs. He appears in the single
funniest scene, wearing an aluminum foil hat he's convinced will
protect him from the oncoming aliens. It's a priceless moment, and
one of many in Shyamalan's excellent thriller.
*Oops :lol I forgot to put page 2 & page 3 onto the article Q&A with Joaquin Phoenix, you can read the whole article here Q&A with Joaquin Phoenix
*BBC World's Talking Movie will be showing something from Signs next week
From BBC World: (originates 19.30 GMT on Tuesday 30th July and is repeated at 16.30 GMT on Thursday 1st August at 00.30, 07.30, 13.30 on Friday 2nd August and 04.30, 16.30 and 20.30 on Saturday 3rd August).
the news show with Signs in it will be on Tuesday 6the august
Go to HERE there you can put your country in & put in then 6th august , they will give you the TV listenings with the right hours for you then, movie talk is on August 6
*Signs on MSN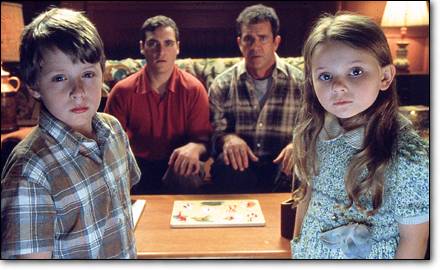 *Thanks to Jimmy Emmet from The Dreamwork board
"I recently hosted a screening of a new film, "Earthlings", which is a feature-length documentary about animal rights, narrated by actor Joaquin Phoenix. It is one of the most comprehensive documents on the subject. The screening went very well, and we are hoping to do another one soon. The
director, Shaun Monson, is desperately in need of additional funding to make this project come to fruition. He has plans to show the film at Cannes Film Festival and Sundance Film Festival. If you have contacts in the film
industry who might be able to help him get this film distributed, or know people who could invest in the film, please contact me at LA@earthsave.org, and I'll put you in touch with the director."
*From People.com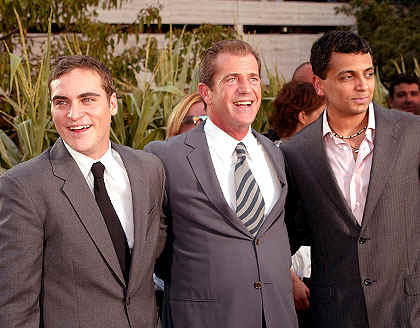 SHOWING SIGNS: Costars Joaquin Phoenix and Mel Gibson must have coordinated on their fashion choices along with director M. Night Shyamalan at the New York premiere of the suspense thriller Signs
*NY Daily A Nightmare On Mainstr. Signs Article
*Daily News L.A: The edge of Night here is Joaquin his piece out of it
That kind of secrecy points to another Shyamalan trademark -- the twist ending. Yes, "Signs" contains a revelatory moment, but it arrives in a different context. Explains Phoenix: "The epiphany is there, it's just that it's more subtle and it's for the characters" relationships. What the audience did at the end of "The Sixth Sense," the characters do here. They say, 'Oh my God, this is what it all means. There is purpose.' "
*Reuters Livestyle here is the piece of Joaquin out of it
Joaquin Phoenix, nominated for an Academy Award for his villainous turn in "Gladiators," may have benefited from the approach. He was brought into the movie 10 days before shooting started to replace Mark Ruffalo, who fell ill.
"I felt confidence in Night's ability as a director and the screenplay was so tight, you know right where he's going," said Phoenix, who admiringly likened Shyamalan to "a scientist."