ARCHIVE
19-08-Joaquin is in the magazine Glamour September 2002
*Signs is still doing good at the boxoffice
M. Night Shyamalan's spooky Signs, starring Gibson and Joaquin Phoenix as brothers menaced by evil E.T.s, only dropped 34 percent from last weekend. With a $5,831 average at 3,344 screens, the Buena Vista release has now grossed $150.7 million in three weeks
*The article from W Magazine, thanks to Raph for that you can see the great pictures off it at her site :), you can read the article HERE
Part of the article about his mustache Phoenix takes a sip of tea. "And when you tell them about the new mustache," he adds, "that might put a damper on things."
*Courtesy of JF
Phoenix stepped into his role very late in the game, a couple of weeks after production began. Though the character factors heavily into the film's suspense and drama, he also provides a major portion of the comic relief. "I don't think I want to be a comic relief actor, but I just want to try everything, give everything a shot," says the usually reserved actor. "And this certainly presented the opportunity for me to play a role that was more fun, not as serious. I didn't get arrested or kill anybody, so that was really good. It was exactly what I wanted in terms of the character. I'm very fortunate that way. I couldn't really specifically say what character I wanted to play or anything like that, but I get a script and that's it. I chalk it up as another experience, another character."
Signs was also an opportunity to work with another top-flight director. "Night is really unique and an amazing director and kind of an ideal director in many ways," says Phoenix, who's taken his cues from Ridley Scott, Gus Van Sant and Philip Kaufman. "What's nice about him is he's very inclusive on set with the cast and crew and (also) with the audience at large. I think he generally wants everyone to enjoy this movie, but he never sacrifices his personal vision of what he thinks is interesting. It just so happens that he blends those two things effortlessly together. I think that's pretty rare.
-----------------------------------------------------------------------
18-08-I have put on 2 links to Jopaquin Phoenix sites
Actor Extraordinaire & Phoenix
*Also put on a new dedication, thanks Steve You can see it HERE
*Joaquin is in the magazines: an interview called "Just One of the Guys" in The Irish Examiner's August 17 Weekend magazine & in an Oz Magazine NW or Now August 19
*For the people in Finland Signs will be at the Espoociné Filmfestival august 24th, you can see it HERE, thanks to fani for this
-----------------------------------------------------------------------
17-08-This is for people who can get BBC1, mostly UK I think
This evening at 11.00pm - 1.00am Parenthood on BBC 1 tonight
-----------------------------------------------------------------------
16-08-Sorry for not updating sooner, I was away for 3 days
*Like you can read above, you can light a candle here for River his birthday that is coming soon, I have already got 2 submissions, thanks to Doc & Kiara (KIKI) for that, you can see all the dedications HERE
*You can win tickets HERE for Buffalo Soldiers
Closing Date: August 31st, 2002. Winners will be contacted with dates of screenings on September 6th at FilmFour in London.
*Thanks to STEVE for the news under here
*Buffalo Soldiers release dates
The folks at Gorilla Entertainment have announced a release date for Buffalo Soldiers. The email said... "ProKino/Fox will release Buffalo Soldiers in Germany on 31st of October 2002. The UK release has been postponed until end of the this year as the UK distributor Film 4 is going out off business. A new distributor will be announced in September with a firm date for the UK opening. Miramax has scheduled the US release for 1st quarter 2003."
*Also some news on 'Bears', which has been renamed 'Moments' according to fortunecity.com:
'Sir Farticus' reported on August 10, 2002 that Travis Blaise would be supervising animation the main character Kenoia as a human, while Byron Howard (John Henry and Lilo & Stitch's Cobra Bubbles) would give life to Kenoia as a bear; Brooke Johnson (Ling and Chien Po in Mulan) and Jim Jackson (Lilo's Grand Counsil woman) were in charge of Ruke and Tuke, and Alex Kuperschmidt (The Lion King's hyenas, Stitch) is animating the older brother character of Kenoia. "The production has been through a lot of ups and downs, as all productions go through. unfortunately, this project hadn't brewed long enough in story. Some seem to be excited about it, others think it not to be much more than the typical modern Disney film. Time will tell! What I can tell you is that the look of the film is, unfortunately, very close to Pochahontas. Now, I saw designs about a year ago, but as far as I
understand things haven't changed. So, the film looks just 'blahish', very bland... I haven't seen any work reels but from what I've heard from people who have it's nothing to gloat about. Especially after working on Lilo. As I said before, the story didn't have the incubation time to cook that it needed."
According to 'Olivier' who got to visit a Disney Feature Animation Studio in August 2002, the project was recently renamed Moments.
-----------------------------------------------------------------------
12-08-A new article from Star Chat A Conversation with Joaquin Phoenix
-----------------------------------------------------------------------
10-08-Joaquin at number 7 at top 10 men to watch, see HERE
*New picture from Joaquin from Signs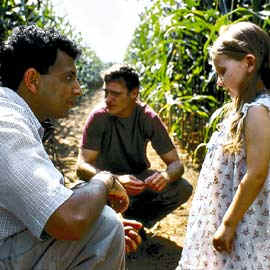 *Well you know all that Joaquin was in the episode Little Hercules, playing Superboy :), this is the story of that episode
#19 - Little Hercules - (4/10/89)
Writer: Wayne A. Rice
Director: David Grossman
While sending a romantic poem to his girlfriend by computer, a thirteen-year-old computer genius (Leaf Phoenix) accidentally sets off a sequential code which activates secret military weapons. The military can not stop the nuclear chain of events once it has started. The only hope is to call on Superboy, who flies the boy genius to a secret submarine where the missiles are ready to launch. With time running out, the boy decodes the computer while Superboy uses all his super-powers to deactivate the nuclear missiles. But unless they can finish in time, it may be the beginning of World War III.
You can buy now these episodes on DVD, HERE is more on it
-----------------------------------------------------------------------
09-08-Phoenix got himself a new agency, but still is co-represented by longtime agent Iris Burton.
Phoenix Signs with Endeavor
HOLLYWOOD (Variety) - Joaquin Phoenix, currently starring opposite Mel Gibson in M. Night Shyamalan's sci-fi suspenser "Signs," has signed with the Endeavor Agency. He was previously represented by Creative Artists Agency, and remains co-represented by longtime agent Iris Burton.
After receiving sound reviews in 2001 for back-to-back perfs in "Gladiator" and "Quills," thesp was a top kudos contender that year, nabbing Oscar, Golden Globe and BAFTA nominations for the former and earning a Broadcast Film Critics Assn. win for the latter.
Phoenix next stars alongside Ed Harris and Anna Paquin in "Buffalo Soldiers" and in Thomas Vinterberg's "It's All About Love" opposite Claire Danes.
*From HERE
Rory, the brother of actors Macaulay and Kieran Culkin, hung out with Joaquin Phoenix on the set. Joaquin, who plays his uncle, hails from a similarly talented family of actor siblings. The two have kept in touch since they finished shooting.
*Thanks to Wylllomy for this, 'Incredible, But True?' Joaquin only comes in the beginning of the programme saying the things he already said in the commercial (read past news for that) & then at the end of it saying
Phoenix: "Keeping an open mind is a challenge for believers and non-believers alike. It's hard to say whether we'll ever find an explanation for crop circles that truly satisfies everybody.

In my new movie 'Signs', crop circles are explained in a very visual way. And although the film doesn't propose to present you with the facts, it does raise the interesting question: Just what do you believe?

We're in the high season for crop circles. They're springing up in fields all over the world right now. Sometimes several are reported in a single day. No matter what you think, they're always worth a look.

For the History Channel, I'm Joaquin Phoenix, and I'll see you at the movies."
*Boxoffice of Signs already is at the $76.2 million mark
-----------------------------------------------------------------------
07-08-From Joaqrophenia Transscript of Regis & Kelly, read HERE
*Thanks to Wyllomy for this, Joaquin will be on 'Incredible, But True?' on the history Channel today at 8pm EST, at midnight, and at noon tomorrow
From the commercial for that show:
Essentially it's a bunch of flashy pics of crop circles and shots from the movie. Then Phoenix comes on and says a few things. Here's the text of the commercial:
Announcer: "Everybody wonders about these weird circles in the fields. Well, they just appear overnight. Yeah, and they show up all over the world."
Phoenix: "But where exactly do they come from? And are they an elaborate global hoax? Or a sign from alien visitors? I'm Joaquin Phoenix. These questions challenge the characters in my latest film, "Signs." The movie, much like reality, will leave you to draw your own conclusions. What do you believe?"
Announcer: "The story of crop circles. It's 'Incredible, But True.'"
-----------------------------------------------------------------------
06-08-I got a reply back from Scout :) (To Scout: Thanks so much already for putting those clips online from the Signs Premiere) She thinks she has a got a few more clips from Joaquin, so she is gonna take a look & will be e-mailing me again :) I will put them up here as soon if I know more ( look for the clip with Joaquin in it at yesterday news)
*2 New articles 'Signs' Frightens Actor Phoenix (the other article is on the same page, it is about the same subject) Joaquin also get frightend when seeing Signs :lol
*Today on BBC World Talking Movies is it going to be about Signs, look at the TV Alerts for more details & for the reruns of Talking Movies
*Thanks Steve :) for this
EBAY AUCTION:
Looks like ABC&Entertainment are auctioning off quite a few Signs props... the baby monitor set bid is currently $362.00, the blue jersey worn by Graham Hess is currently $305.00, the maroon t-shirt worn by Merrill Hess is currently $272.00, the basement radio is currently $255.00, and the jeans and t-shirt worn by Graham Hess is currently $224.72. For complete information on eBay's Terms and Conditions, please refer to their Conditions of Sale page.