Christmas Book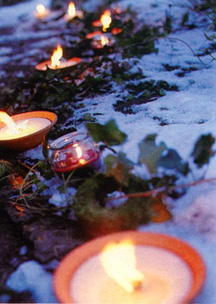 This cover was designed by Antje, thank you so much it's so gorgeous and peaceful!
cover and back!
The first is of course the cover, and back. This is confetti paper, pretty expensive (shush!! it's from my dad's office!!! heehee) All the sheets of yellow and purple paper were mounted on white poster board, folded into a book (dont worry, professionals stitched it together, and it's very nice lookin!)
I will separate the letters by countries, as Ruthie did, and I have some stickers I will place here and there.
Thank you to the following that contributed:
Ruthie EileenK
Antje Shaolin
Myself Lucilla the Merciful
Johanna Dorothy Kahn
Felisha Stephanie Hutson
Whitney DG Jenn
Synona Skies Adeline
Maxina and Commola Jedi Bean
Brooke