IT'S ALL ABOUT LOVE
Clips, teaser & trailer HERE
---
BUFFALO SOLDIERS
The trailer from Buffalo Soldiers [low] [medium] [high]
It is in German though the trailer
English trailer from Buffalo Soldiers QuickTime, or Choose another player HERE
---
SIGNS
Trailer & Teaser HERE
*Courtesy of joaquin-phoenix.net is this .mov clip (0:25mins. 1,001KB) of Mel Gibson talking about Joaquin, praising JP for his work on Signs, how much he gives to a performance and brotherhood
*You can see the cast from Signs talking about the movie HERE, also interview with Joaquin on it :) & some clips from Signs
*Several clips from Signs (you can see them under here) from HERE & Six more Signs clips HERE
"I'm Getting Out" -- Morgan Hess (Rory Culkin) tries to convince his skeptical uncle (Joaquin Phoenix) and father (Mel Gibson) that a baby monitor is picking up UFO transmissions.
"In The Corn Fields" -- Graham Hess' (Mel Gibson) flashlight goes out.
"They're Hostile" -- Morgan and Bo (Rory Culkin and Abigail Breslin) try to explain extra-terrestrials to their father (Mel Gibson).
"I Think God Did It" -- A stunned Graham Hess (Mel Gibson) surveys his corn field.
"There's A Monster Outside My Door" -- Bo Hess (Abigail Breslin) asks her father (Mel Gibson) why he talks to her dead mother at night.
"Good Advice" -- Officer Paski (Cherry Jones) tells Graham Hess her theory about the crop circles.
*You can see a clip from Signs HERE, it is with Mel Gibson & Joaquin in a car
Here are all the codes from the Signs Cards from the Offcial Site For Signs
Card #01: 1T4749 | Card #02: 2H1136 | Card #03: 3E7774 | Card #04: 433424
Card #05: XS226I | Card #06: 6K3415 | Card #07: 7Y1411 | Card #08: X2201A
Card #09: 9R3012 | Card #10: X06923 | Card #11: 103244 | Card #12: 2F2671
Joaquin in Japan Premiere SIGNS
-A clip from Joaquin interview in Japan HERE
It is about 26 minutes long, Joaquin is funny in it, but sometimes you can't hear him that well
*Fani tranlsted the text under the Pictures from The Japanese site
The translation:
The newest movie from the director of The Sixth Sense and Unbreakable, Signs, was introduced by main actor Joaquin Phoenix, who had come to Japan. Before the all-night premiere showing of Signs in the biggest movie theatre in Japan came Joaquin's greeting. He stood in front of the screen. I heard about Joaquin in (((some movie name in Japanese ))) and after seeing Gladiator, I thought that he was a good actor. I had wondered, what the real Joaquin would be like, but my imagination had been so different that I was surprised. It was like, "Is this really a Hollywood actor that was nominated for an Oscar?" Before Joaquin came to the stage, the announcer explained "His a very shy person". But I found him more than very shy, it was the first time I met a Hollywood star who stared at the floor and seemed very nervous and uneasy. It made me worry, if he had won the Oscar, would he have been able to make the speech?
Appearing in front of the screen, Joaquin first said, "This is how I really feel". Then he made his speech in Japanese (reading it from a piece paper). "I'm happy that I could come to Japan. Please enjoy the movie. How is Tama-chan?" Tama-chan? Everyone in the theatre laughed. From who did he hear about Tama-chan? (He looked very pleased, when everyone laughed) Suddenly he said "May I do rap?" and immediately after that he said "It was a joke" and looked down, uneasily. Although being shy, Joaquin making a joke and looking very pleased when succeeding was very cute. I'd not though that he would be a man described as cute, but after meeting him, I think he really is a shy and a cute person.
The Japanese woman in the pictures with Joaquin is a Japanese idol. On her chest there was written Signs in katakana-marks. When asked, what do you think about the writing, Joaquin looked at the writing for a very long time, as if not knowing what to answer, and said "It's written well" Then he looked at the floor yet again.
I'm not satisfied with the event. This is because no questions about the movie was presented to Joaquin. Coming on the stage, Joaquin said his greeting immediately. Then right after that, came the idol woman, who said things like "I've seen Signs twice" and "My make-upper wrote Signs to my chest" then it was all over. I don't care about such things. Now that Joaquin finally was here, why couldn't they speak about the movie, about which parts of the movie are best or what kind of a person is Mel Gibson or Shyamalan? There should have been lots of things to ask. And we could here Joaquin's voice through the microphone only at the beginning and right after the shooting with the idol woman, the announcer said "The special guest, Joaquin Phoenix-san" and the event was about to end. At that point, Joaquin asked the interpreter to say thank you for all the people who had come there. Shouldn't the announcer and the idol thought more about the star who had come all the way from America?
About the movie, it was better than Unbreakable and worse than The Sixth Sense.
*You also can see two clips from the premiere :) HERE the two links under the pictures (If you click on it you get a message with the question Downlad this on it, you don't have to download it just say no & you still can see the clips) I think that Joaquin is trying to speak Japanese on the clips :lol
*
4 Joaquin interview in Japan Clips here 256k/ISDN & 256k/ISDN & 256k/ISDN & 256k/ISDN
OR Clip 1 Clip 2 Clip 3 Clip 4 He is again so funny in them :lol
If you can't see the clips, here are some pictures from in Japan
Pictures Premiere Signs In Japan More pictures Signs Premiere In Japan & MORE
---
TRAILERS
Quills Preview (High Res.) Quills Preview (Low Res.)
Quills The Yards Gladiator Several Gladiator trailers HERE 8MM Clay Pigeons Return To Paradise To Die For.mov To Die For.avi Inventing the Abbotts U-Turn.mov U-Turn.ram
---
COMMERCIAL PETA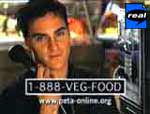 Click on the picture to see it
---
JOAQUIN IN JAY LENO HERE
---
SEVERAL CLIPS
*ET Behind the Scenes Look Gladiator & Behind the Scenes Footage Gladiator
*Episode of South Park Gladiator South Park Gladiator (3.4MB)
*To Die For Jimmie, Russell and Lydia
*Joaquin Interview .rm & Joaquin Interview2 .rm London Film Festival
---
Voices TNT in U-Turn
I'm just like dynamite
36K .wav
Download
---
LADDER 49
A short Training Video with Joaquin in it
Small video of Ladder 49 set. To view the entire video you have to
pay. You can see it HERE from Robert Patrick Forum
---
Brother Bear Trailer HERE