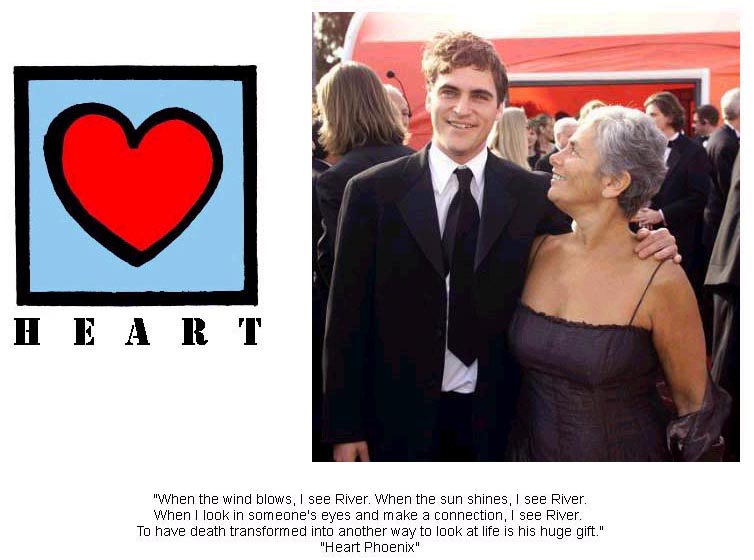 Arlyn Sharon Dunetz was born one of three sisters. She was born New Year's eve 1944 to a Jewish family in the Bronx. When she left high school, she married a computer programmer, and worked as a secretary in Manhattan.
"At eighteen, I was a clone, and totally unconscious. I didn't know the air was polluted and I didn't care. I just went to work and assumed everything the government told me was right and true. It took some time before I awakened. I became aware. it was difficult because my parents weren't seeing the same things, but I knew I had to change my life."-Heart
The summer of 1968 she left the secure ness of money and a husband, to hitchhike to California.
Heart Phoenix is one of the most devoted moms I have ever read about. She supported her children all through the start of their young careers to when they were awarded for being great actors. She gave up so much to help then rise in acting status. She also is committed to the environment, and helping people connect with their mind and spirit. In fact, she has been hosting workshops inviting the deepening of relationship with Spirit and the earth for the last 10 years. They mostly take place at the Kripalu Center, for Yoga & Health in Massachusetts. Also, she is a certified Dolphin-breath facilitator. Her and John are now divorced.
Also, don't forget her and John decided to help their family's future by becoming strict vegans. All of the children are vegans, and Joaquin even did a commercial for Peta.
"When I was a kid, we were on a boat from Venezuela to Florida
and my brother and sisters and I watched these fishermen haul in hundreds of fish. They were all squirming on the deck, dying, and the guys were smacking them against the walls to kill them. We were all so disgusted, because we'd been watching them jumping around in the water, like minutes before. It was our first concrete experience seeing what happens to "FOOD" before it gets on the table, and we just decided never again to eat anything that had once breathe."-Joaquin

"This is more than show business to us. I think there is a purpose of why this is all happening to us. We just have to be patient and let if find us. We've been blessed with five extraordinary children. I look at them at times and wonder if they're mine. The World's in such awful shape now, maybe somehow we can make a difference. Life is all about finding reasons, all you have to do is open your heart." -Heart
"We had a vision that our kids would captivate the world" -Heart