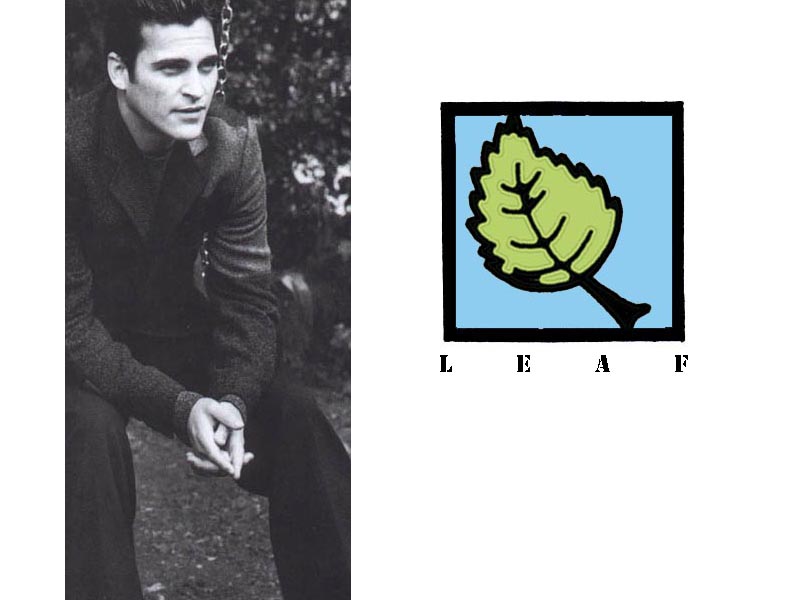 Joaquin Phoenix was born Joaquin Raphael Phoenix in Puerto Rico on October 28th. Arlyn Dunitz Jochebed and John Bottom Amram are his parents' names and they originally had "Bottom" as their family name, but would later change it.
Joaquin's family was very poor. They didn't have only him, but four other kids to raise. They were River, Summer, Rain and Liberty. All of their kids were named after nature and that was due to their hippy life style. Also all the family members are strict vegans, which sometimes became a problem considering they didn't have allot of money, however they were a very tight family. "I had a really wonderful upbringing. We were a tight family. It was wonderful to grow up with so many siblings. We were all just a year or two apart, and we were always so supportive of each other. I learned everything from my older brother and sister and taught it to my younger sisters."
At the age of four Joaquin decided that he wanted a more earthy name, like his elder siblings River and Rain, so while he was raking leaves with his father he decided on Leaf. In the early 90s he would take back his birth name.
His father was born in Fontana, California and his mother in New York in 1944. John was a landscaper and, together with Joaquin's mother, was a migrant fruit picker, independent Christian missionary, Children of God Archbishop of Venezuela and the Caribbean Islands and missionary with Children of God. Arlyn also worked as a temp at NBC in California in 1978. Now they are divorced.
Their life was marked by frequent trips around America. They were constantly moving in search of a better life. For some time the family lived in a trailer that had no back window. About this time the Phoenix family must have a lot of stories to tell and one of them is about one night when it was so cold inside due to the missing back window, that they had to use baby diapers to keep warm and be able to sleep.
The kids of Arlyn and John showed their talent at a very young age. River and Summer used to sing in the streets to make money for the family. All of Joaquin's sisters are actresses as well, except for Liberty, who's a housewife.
Joaquin's sister Rain sang back up for the Red Hot Chili Peppers on their tour in 1996. She also sang back up on an REM record.
Joaquin dropped out of school in ninth grade. "I was doing that home school thing and the motherfuckers sent a dead bloated frog to my house to dissect", says Joaquin.
After his auspicious part in "Parenthood" 1989 Joaquin made a self-imposed, six-year hiatus. He came back playing to chilling perfection an aimless disaffected high school student who's seduced by a sexy cable-access weathergirl into murdering her husband in "To Die For" 1995. "In the interim I traveled around a lot, went down to Mexico to hang out with my dad for a while"
Joaquin's next brush with fame had nothing to do with acting at all. On the night of October 30, 1993, Joaquin, his brother River, sister Rain and River's girlfriend, actress Samantha Mathis decided to spend a night out on the town. The four headed out to the Sunset Strip, and they ended up at the Viper Room, owned by actor Johnny Depp. When River began to convulse due to a drug overdose, they took him outside. Rain lay herself upon him to comfort and relax her eldest brother while Joaquin headed for a phone. This is when he made the famous 911 call that was repeated countless times on every TV and radio station everywhere. "I'm thinking he's taken Valium, or something," said Joaquin to the 911 dispatcher. But the phone call was not enough. Joaquin lost his only brother on that sad Halloween morning. River was pronounced dead at 1:51am at Cedars-Sinai hospital in Beverly Hills. "After River's death, I felt like I was in an altered state. It took me over a year to get my life back."
Joaquin was reading for Inventing the Abbotts when he first ran into Liv Tyler. "What can I say? We hit it off immediately. She's a darling. I've said it over and over again. She's just very real, right there, never like a movie star. She's so genuine, and she doesn't take herself too seriously. It shows in the work she does that her honesty stands out most."
Joaquin plays backgammon (during the making of Gladiator he and the other actors used to play it in the free time and they claim Joaquin is quite good at it). He listens to Miles Davis, Frank Sinatra, Queen and James Brown. Also Joaquin makes music! On a Yamaha keyboard. And he enjoys reading too, especially authors such as Tennessee Williams, Rilke and Hubert Selby Jr. Rides a Ducati motorcycle and a yellow '72 Le Mans. Also some of his best friends are Casey Affleck, Liev Schreiber, Sean Lennon, Vince Vaughn and Russell Crowe. "If anybody's ever been a big brother to me, it was Crowe."
Joaquin's Zodiac Sign: Scorpio
Name analysis: Your first name of Joaquin creates a serious, thoughtful nature, shrewd, efficient, and business-minded. You are one to make your own decisions, and not be influenced by others. You desire independence and freedom from the authority and interference of others. You are not overly ambitious, preferring instead just to seek stable, settled conditions which are adequate to meet your responsibilities. In your personal relations with others, you are inclined to be rather serious, and not to see the humour others see, or to respond spontaneously. Your positive manner and outlook can make others feel that you are imposing your will on them and even interfering in their affairs. Weaknesses in your health caused by the influence of this name centre in the head. Head colds, sinus conditions, hay-fever, and weak eyes are relative conditions. Also, your tendency to worry can lead to insomnia and other overwrought conditions.
Phoenix: The name of Phoenix gives you the desire to meet and mix socially and to create congenial circumstances for everyone. However, all too often, you express yourself in a matter-of-fact or awkward way that results in your good intentions being misunderstood. If you are in sales work, you could do well because of your friendly personality, interest in people, and desire to please. You prefer situations that allow a degree of independence, but are not too demanding in work-load or responsibility. When asked, you are able to give others good advice that you would probably not follow yourself, but must guard against being too opinionated in controversial matters. While you can appear to be confident, you need the moral support and encouragement of others who give inspiration and strength. Weaknesses in health show in the senses of the head as well as in the various fluid functions of the body. (from http://www.kabalarians.com )