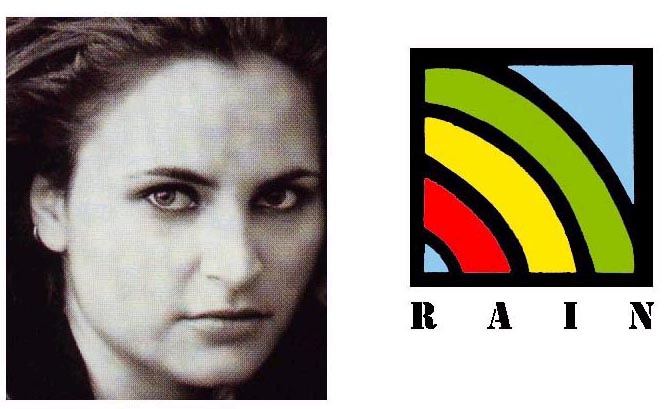 Rain Joan of Arc Phoenix, born March 31st, 1973 in Crockett, Texas, at 9:47 PM. Rain was due on April 6th. She is River's first sibling, and sang with him on the streets to support their family. When she was about 11, she changed her name to Rainbow, but at some point later on, changed it back to Rain. John and Heart gave her the name Rain because it was raining that day.
"Alot of people would gather and listen to us. It was a real novelty. We had a whole act together. I was strumming on a guitar that was taller than me at about 100 miles an hour. I knew only five chords. For my age, I was one of the better guitarist around! We drew hundred to the plaza who were delighted and charmed by us. That's where I learned to give alot of joy and happiness from signing."-River
Rain acted in a few roles when she was younger, but stopped for a while. She was mostly singing with Aleka's Attic, River's band, and doing tours to help the enviornment. 0n Febuary 7,1993, Rain had her first son, named Jonas Winter. That year she began acting and starred as Bonanza Jellybean in Even Cowgirls get the Blues. She has some some smaller roles since then.
Here are some quick facts about Rain:
¦one son¦sings in Causey Way and Aleka's Attic ¦Second oldest child ¦bout five' 4"-6"¦
Also, here is her filmography:
Family Ties (1982) ["Band on the Run"]
Amazing Stories (1985) ["The Doll"]
Maid to Order (1987) [Brie Starkey]
Even Cowgirls get the Blues (1993) [Bonanza Jellybean]
To Die For (1995) [uncredited]
I woke up Early the Day I died (1998) [Bartender #1]
Facade (1999) [Terra]
$pent (2000) [Kimberly]
Stranger Inside (2001) [kit]
The Sleepy Time Gal (2001)
O (2001) [Emily]
Other Works:
Appears as the cello player in the new R.E.M. video At My Most Beautiful

Backup singer for the Red Hot Chili Peppers.

Plays keyboard and vocals in Causey Way

Print ad for Levi's (1997)

TV commercial for Calvin Klein's CK1 (1997)